Environmental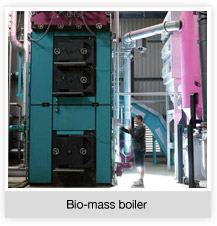 What we have achieved so far:
All green waste recycled
Cardboard waste achieving 100% recycling
Plastic waste achieving 90% recycling
Carbon Emissions reduced by 1500 tonnes per year compared to previous heating system
Inkject cartridges recyled
Introduction of a compost peat reduction policy
Environmental Policies
Our Goals:
To commence the growing of our own bio-fuels
Further Carbon Emission reductions
Ongoing Peat reduction trials
Investigation into renuable electricity production
Reduction in production miles
Further conservation and habitat projects
Continue to monitor waste recyling and waste reduction
Bio-Mass Boiler
In Late 2007, the nursery took the plunge and installed a state of the art biomass boiler. The result has seen a 1,500 tonne cut in carbon emissions compared to the previous system. In 2009 a further devolpment to the heating system was installed so that all the nurseries energy requirements are produced within a new energy centre facility, which contains the bio-mass boiler and all of its associated processes.
This second stage of instalation was partically grant funded by East Midlands Devolpment Agency

More Information
For more information about plants and services please contact us on 01205 760 319 or email info@bellbrothersnurseries.co.uk